Recent News
Good morning Canada!
The Restigouche River Lodge would like to wish all Canadians a very happy Thanksgiving. Eat hearty and have a safe holiday. The nice thing for myself is, that due to Canada's earlier holiday I enjoy two Thanksgiving in one year.
Thanks Canada, KB
The new camp is progressing well. We are really excited to get it completed.
Here are some photos of it's progression.
Our new camp is progressing nicely. Here are some photos of the work being done.
At the printer we are making 3″x4″ RRL logo stickers for cars etc. We will have them at the Lancaster Fly Fishing Show for anyone that would like one. Of course they will be at the lodge for our guests, future shows, presentations and included on any RRL orders as we get our website shop set up and running.
The Restigouche River Lodge will be at the Fly Fishing Show in Lancaster Pa. March 5th and 6th 2016. See you at the show
Hurricane Arthur provided all the fireworks for Canada Day and the Fourth of July in 2014. Arriving to the Canadian Maritimes with a big bang the storm kept most of the outdoor activities to a minimum. Arthur really whipped up the Restigouche River and on a time of the season when you would expect beautiful warm weather Mother Nature gave us the big chill. Winds took down one of the RRL flag poles, a large tree along with many huge limbs around the grounds.
In camp during this week was a fine chap, Roger Urwin from across the pond. Roger, who comes from England might have been raised on rainy, cold weather but not this. Other sports came in quickly as the storm started to rage, not so for Roger and his guide Matty. The two braved the powerful winds, rough water and frigid temperatures, oh boy was it cold.
The determined sport and guide fought all the punishment Arthur could dish out that evening. Despite the least likely salmon taking conditions this fellow managed one fine Atlantic salmon that evening. The two came in cold and wet with big smiles on their faces.
I think we would be hard pressed to find another Atlantic salmon angler that could tell such a story. The RRL hats come off to Roger Urwin one determined fly fisherman with an Atlantic salmon and a hurricane to remember.
Cheers Roger, you sure know how to play the game!
Bill
Seasons on the Fly, The new fall episode is here.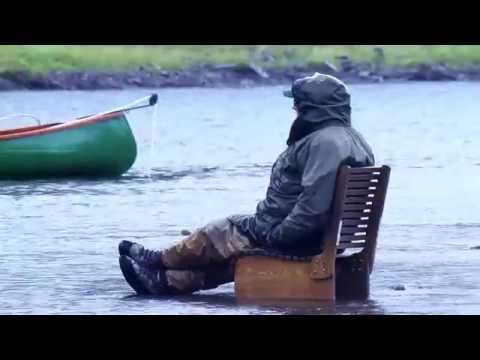 Last night for the On Line Auction, top bid is at $2,600.00 regular price for this trip is over $5,000.00 This is a prime week for 2 rods mid-June on the Restigouche, lodging, dinning, private water and guides included. Three day and three nights over 4 days. Can't be beat get your bid in!!!
Auction Trip Bids
KB on 04/25 06:27 am $3,500.00
IM on 04/25 06:08 am $3,200,00
BM on 04/24 04:29 pm $3,100.00
KB on 04/24 01:18 pm $2,800.00
BM on 04/23 08:48 am $2,600.00
KB on 04/23 03:33 am $2,500.00
BM on 04/17 10:33 am $2,400.00
SD on 04/17 10:42 am $1,250.00
KC on 04/16 03:08 pm $1,000.00
The RRL is happy to announce that we have an agreement in place to fish and "manage" the entire stretch of the Restigouche River. From our downriver border of New Brunswick and Quebec, at the junction of the Matapedia River past the railroad bridge, to the Provincial Bridge. Dates range from May 1st to June 3rd, and most of August & Sept of 2014. Please contact Bill Hartnett to discuss terms and availability at info@restigouchelodge.com or Cell 201-788-2920 and/or the Lodge direct 506-759-8112 after May 1st.
Atlantic Salmon Fly Fishing on the Restigouche
Three Prime Days and Three Nights for Two Rods
This auction is for three days and three nights of Atlantic salmon fishing at the Restigouche River Lodge. The trip includes lodging, dining and three full days of guided fishing. The proceeds from this auction will help in the expenses for the care of Margaret Siegel who has been stricken with ALS. Margaret is the mother of a son and daughter and wife of Howard Siegel a close and dear friend of the lodge who has assisted us in many ways.
This auction in addition to helping a worthy cause will provide some fun and excitement for the bidders and to the eventual winner of a great Atlantic salmon trip for 2014.
This trip is based on three prime days for two rods June 12th – 15th  Other available dates for 2014 can be chosen if this trip does not fit the winner's schedule. Trip value $5,190.00
Bids are to be submitted by email to info@restigouchelodge.com. Bids will be posted on the Restigouche River Lodge website www.restigouchelodge.com , RRL Facebook page and Friends of the Restigouche River Lodge group Facebook page.
Auction begins on April 15, 2014 at 10:00 am EST and will close on April 25, 2014 at 10:00 am EST.
Best of luck!